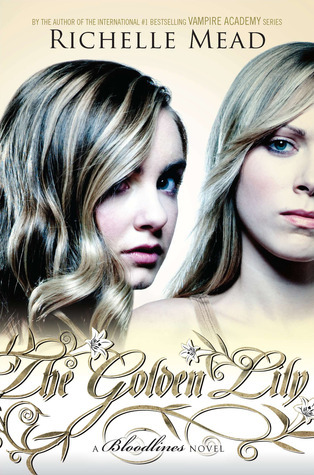 The Golden Lily – Book Review
Richelle Mead
Book #2 in the Bloodlines series
Sydney Sage is an Alchemist, one of a group of humans who dabble in magic and serve to bridge the worlds of humans and vampires. They protect vampire secrets – and human lives.
Sydney would love to go to college, but instead, she's been sent into hiding at a posh boarding school in Palm Springs, California – tasked with protecting Moroi Princess Jill Dragomir from assassins who want to throw the Moroi court into civil war. Formerly in disgrace, Sydney is now praised for her loyalty and obedience, and held up as the model of an exemplary alchemist.
But the closer she grows to Jill, Eddie and especially Adrian, the more she finds herself questioning her age old alchemist beliefs, her idea of family, and the sense of what it means to truly belong.
Her world becomes even more complicated when magical experiments show Sydney may hold the key to prevent becoming Strigoi – the fiercest vampires, the ones who don't die. But it's her fear of being just that – special, magical, powerful – that scares her more than anything.
Equally daunting is her new romance with Brayden, a cute, brainy guy who seems to be her match in every way. Yet, as perfect as he seems, Sydney finds herself being drawn to someone else – someone forbidden to her.
When a shocking new secret threatens to tear the vampire world apart, Sydney's loyalties are suddenly tested more than ever before. She wonders how she's supposed to strike a balance between the principles and dogmas she's been taught, and what her instincts are now telling her.
Should she trust the alchemists – or her heart?
Normally when it comes to reading a series, I like to take a break between each book. However after finishing Bloodlines, I couldn't help but dive straight into The Golden Lily, and I'm pleased to say, I'm still hooked and enjoying the series.
In this second novel, we see Sydney get a boyfriend which helps reveal just how awkward and socially naive she really is. Yet handsome distractions aside, there is once again trouble brewing in Palm Springs.
When her Moroi friend, Sonya, is attacked and taken captive by a mysterious band of 'vampire hunters' suddenly the crazy myths about them no longer seem quite so crazy. Yet when conventional means to find Sonya fail them, Sydney must put aside every one of her fears and ingrained beliefs towards magic. Seeking out the help of her history teacher, the local witch, Sydney finally accepts that magic may just have a place in the mortal world. But just what are these secrets the alchemists have been hiding? And why is Adrian, a moroi vampire playboy constantly plaguing her thoughts?
As one by one, the walls of her belief system begin to crumble, Sydney finds herself thrown by a choice she never thought she would have to make. Who to trust? The alchemists, the moroi… or herself?
Once again, I really have fallen in love with yet another one of Richelle Meads fabulous series. I devoured this book in less than a day and am trying really hard to give myself some space before I dive into the next book.
In this second novel, we see the action begin to pick up as Sydney becomes more relaxed with breaking rules. Not only is she willingly spending time with Adrian, a cute Moroi vampire, but despite her resistance to learn magic, a secret part of her thrills in the power and finds the practicalities of it fascinating.
I
n this book Sydney also gets herself a boyfriend, much to her surprise as everyone else's. And while I love that her boyfriend has a similar love of academia as her, I loved Sydney's approach to the relationship more. As in, when it comes to dates and kissing, she would research the theory before hand in a book.
Yet humor aside, Sydney really has grown as a character. She is more adept with school based social situations and is finally beginning to see her own worth as something other than an alchemist.
Some of the characters from the Vampire Academy series, mainly Dimitri and Sonya, get to play much bigger parts in this book too – and it was nice to see such old and familiar faces return. Yet I felt like this series secondary characters, such as Jill and Eddie, took a more backseat role which I found strange in hindsight as Jill in particular is the whole reason Sydney is living the 'high school life' in the first place. I really hope these characters get a bigger role in the nex
t book.
Otherwise the plot moved quickly and had plenty of mystery woven in to keep you guessing. There were some interesting new developments as well as some unique new characters, and while not quite a cliff hanger, the book definitely leaves you with many unanswered questions.
All in all, a fabulous read. I can't wait to continue this series. 4 stars!