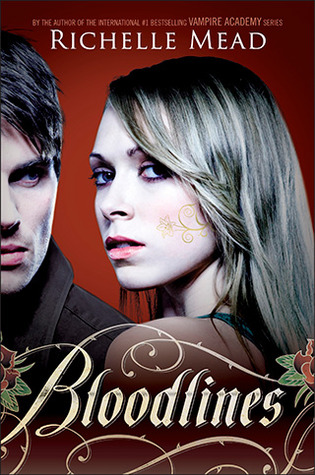 Book #1 of the Bloodlines Series – A spin off from Vampire Academy
Sydney is an alchemist, one of a group of humans who dabble in magic and serve to bridge the worlds of human and vampires. They protect Vampire secrets – and human lives. When Sydney is torn from her bed in the middle of the night, at first she thinks she's still being punished for her complicated alliance with dhampir Rose Hathaway. But what unfolds is far worse.
Jill Dragomir – the sister of the Moroi Queen Lissa Dragomir – is in mortal danger, and the Moroi must send her into hiding. To avoid a civil war, Sydeny is called upon to act as Jill's guardian and protector, posing as her roommate in the last place anyone would think to look for vampire royalty – a human boarding school in Palm Springs, California. But instead of finding safety at Amberwood Prep, Sydney discovers the drama is only just beginning…
I adored the Vampire Academy series and was delighted to hear about this spin off. And while I feel the plot was very predictable – especially as I've read the vampire academy books, I still found Bloodlines and enjoyable read.
Following the life of Sydney, an eighteen year old alchemist with a fear of magic and an even larger fear of vampires, this first book sees Sydney overwhelmed by both.

Yet she is willing to do anything to protect her younger sister, Zoe, from the regimental clutches of the alchemists. Even if that means accepting a job that sees her relocating to a boarding school where she will room and pose as the sister of a Moroi Vampire Princess.
However Sydney is soon surprised to learn that vampires – at least the Moroi – really aren't so bad after all, but despite her newly made friendships, Sydney can't allow the alchemists to discover her newly changed attitude.
If it became known she sympathised with vampires, the alchemists would see fit to initiate Zoe into their order and have Sydney replaced and sent to the re-education centre – essentially, a prison for alchemists.
However between keeping the Princess safe, learning to navigate the high school social scene and keeping Adrian, a party loving Moroi in check, Sydney has her work cut out for her. Especially as it seems someone seems to have stolen the alchemists' sacred art of magical tattooing.
Now with students popping up with heightened abilities all over campus, Sydney must battle to protect the princess, stay under cover as a loyal vampire hating alchemist and uncover the truth behind the mysterious tattoos. But someone from her past has it in for her and Sydney risks losing everything. Her future, her sister and maybe even her life…
I really, really enjoyed this book. As well as being its own unique story, it also gives an in depth look into what happened after the events in vampire academy. I particularly liked that many of the characters from the previous series also got to make cameo appearances.
In terms of the plot, I found 2/3s of it very predictable, however I never would have guessed such outcomes had I not followed vampire academy. Still there were a few surprises, yet even being able to predict the 'plot twists' I still immensely enjoyed the story. In fact I actually just felt smug that I figured most of it out lol.
However my one criticism of the plot is that I didn't feel like it was very action based. While plenty of drama unfolded to keep me happy, I felt that this story lacked the kick ass action that I have come to expect from Richelle Meads leading ladies. Yet saying that, unlike her other heroines, Sydney is a much more subdued character.
Her strengths lie in her smarts, and her ability to think on her feet. She is no warrior but is still the back bone of their little group. Rationalising her actions, she is trustworthy and responsible, yet we see glimpses of a potential spit fire smouldering beneath her straight laced upbringing. Her small eating disorder aside, she is a character I both respected and loved. I can't wait to see how she develops in the next book.
The other characters were also plenty interesting. Jill, Eddie and Adrian all shine in their new leading roles and I hope we get to uncover more about their pasts as the series unfolds.
I also like how this book left many questions unanswered yet also gave small hints of things to come. For example Sydney's history teacher being a potential witch, Sydney's bad tasting blood, not to mention the potential romantic spark kindling between her and Adrian. I really can't wait to dive into the next book.
So overall a great read and a terrific start to what promises to be yet another marvellous series from Richelle Mead. I give bloodlines 4stars! Oh and if you haven't already, I would totally recommend checking out Vampire Academy!